VEGAN MACARONS
with Richard Hawke
ONLINE MASTERCLASS
Learn to create delicious vegan macarons
Course and Support in English
30+ Full HD pre-recorded video lessons
Training Certificate
BE FIRST. GET OUR EXCLUSIVE LAUNCH OFFER:
Share with your friends on:
Vegan Macarons
with Richard Hawke
Learn to create delicious plant-based macarons online.
No eggs. No dairy. No gelatine.
Natural colorants only.
3 Petit Fours
You will learn to make 14 recipes from scratch using only plant-based ingredients and natural colorants.

Educational Materials & Activities
30+ Full HD pre-recorded step-by-step video lessons
(190+ min)
;
PDF Recipe Book and educational materials.
12 Months
Access
You will have 12 months 24/7 access to your account where you can revisit the lessons anytime you desire.

Training
Certificate
After completing the online course you will be rewarded with our Training Certificate.

Join us and
learn
how to make
delicious plant based macarons
with Richard Hawke:
Join us and learn how to make
delicious plant-based macarons
with Richard Hawke:
The Vegan Macarons Online MasterClass
is here to help you learn the secrets of the perfect vegan macaron in the comfort of your kitchen.

Your new pastry journey starts with understanding the role of ingredients - classic vs plant-based.
You will learn to replace classic pastry ingredients like eggs, dairy and gelatine with plant-based options,
equipments and tools used, how to use natural colorants,
basic recipes and techniques.

Chef Richard will teach you step-by-step how to create the perfect plant-based macarons
with 11 different delicious garnishes.

The inspiration section is designed to take you to the next level,
presenting gorgeous signature 3 petit-four creations ("one bite" desserts) with macaron base,
to inspire you to use your own creativity and imagination
and incorporate vegan macaron in different pastry products.

We trust you will enjoy your new learning experience with us
and will take your pastry skills to the next level!


Course Content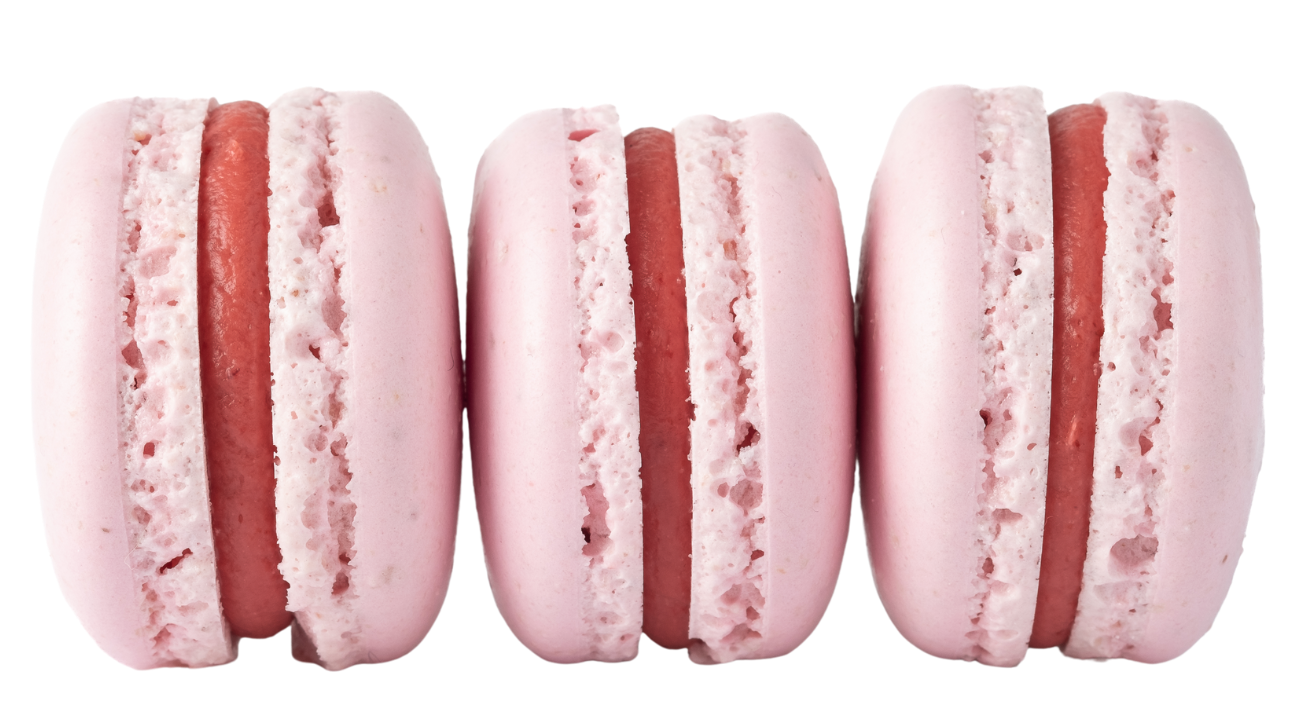 In this course we learn to create
11
Vegan Macarons
with different fillings +
3 Signature one-bite macaron based creations
.
Everything created with
100% plant-based ingredients, eggless, no dairy, no gelatine and using natural colorants.
The course is structured in
7 modules
, each module with
step by step video lessons
and instructions.
[Click the arrows to display the content of each module]
Module 1:

Basic Recipes & Techniques
In this module you will learn:
How to replace classic egg whites and create your own vegan whites;
How to make your own hazelnut praline;
Almond marzipan;
How to make your own mylk chocolate gianduja and more.


VIDEO LESSONS
STEP BY STEP INSTRUCTIONS
PDF RECIPES
You will have access to the list of ingredients

and our recommendations to obtain the best results.
Module 2:

Vegan Macaron Shell
Learn to create the perfect vegan macaron shell, shiny and crunchy in the
outside, moist on the inside, with a delicate feet using 2 different techniques.
Learn to obtain beautiful colours by using 100% plant-based colorants.

VIDEO LESSONS
STEP BY STEP INSTRUCTIONS
PDF RECIPES OF CLASSIC & VEGAN MACARON
All recipes made from plant-based ingredients, no eggs, no dairy, no gelatine.

Module 3:

Critical Points & Troubleshooting
In this module you will learn:
The role of the ingredients used in creating vegan macarons;
Classic meringue vs vegan meringue;
How to use natural colorants and obtain beautiful colours;
Equipment used (tips and tricks on ovens, trays, silicon mats);
Critical points & trouble shooting: what could go wrong and how to fix it;
Piping, baking, assembly and storing tips and tricks.

VIDEO LESSONS
STEP BY STEP INSTRUCTIONS

Module 4:

Macaron Garnishes
Learn to create
11 delicious macaron fillings
with enhanced flavours and textures: chocolate based, fruit based, nut based based + vanilla:
Strawberry Ganache
Raspberry Ganache
Mango Passionfruit Ganache
Blackcurrant Ganache
Vanilla Garnish
Hazelnut Ganache
Dark Chocolate Ganache
Mylk Chocolate Ganache
Passionfruit Mylk Ganache
Gianduja Mylk Ganache
Blackcurrant Mylk Ganache


VIDEO LESSONS
STEP BY STEP INSTRUCTIONS
PDF RECIPES
Module 5:

Inspiration Macaron Monica
In this module Chef Richard Hawke challenges you to use your creativity and imagination to create macaron based modern pastries. The Macaron Monica is a perfect example of a delicious and fabulous
one-bite dessert
that will impress your clients, family and friends: macaron base, passionfruit mylk ganache, whipped passionfruit coulis and decoration.
VIDEO LESSONS
STEP BY STEP INSTRUCTIONS
PDF RECIPES
Module 6:

Inspiration Vanilla Raspberry Petit Four
In this module you will learn to create The Vanilla Raspberry Macaron - a stunning signature petit-four created by Chef Richard Hawke with a pink macaron base, raspberry coulis, vanilla ganache aerienne and chocolate decoration.
VIDEO LESSONS
STEP BY STEP INSTRUCTIONS
PDF RECIPE
Module 7:

Inspiration Hazelnut Galaxie Petit Four

In the last module of this course you will learn to create the Hazelnut Galaxie Petit Four, using a cocoa macaron base, delicious hazelnut ganache, decorated with chocolate ganache aerienne using Chef Richard's signature piping.

VIDEO LESSONS
STEP BY STEP INSTRUCTIONS
PDF RECIPE
Who can attend?
Course recommended for:
Motivated home
bakers
who would like to learn to bake eggless macarons to impress their family and friends.
Pastry Chefs, Chefs & Bakers
who would like to learn to replace eggs, dairy products and gelatine from classic macarons and create delicious plant-based options.
Vegan Chefs
who are looking to learn different ways to bake beautiful and tasty plant-based macaron and consistently obtain the perfect results.
Pastry students

who want to develop their pastry skills and knowledge and prove them with a Training Certificate.
Digital Course Player
Once you have registered for this course, you will get access to your Course Player to start your learning.
PDF Repice Book & Materials
Beautiful PDF Recipe Book with a unique recipe design.
Printable PDF Materials
Full HD Pre-Recorded Video Lessons
Over 190 minutes (3+ hours) of pre-recorded Full HD Video Lessons that can be viewed at your own pace anytime from anywhere.
Choose your course and
register
Access
Course Player & Start Learning
You will get immediate access to your Course Player, where you will find all learning materials (instructions, video lessons, course book, other materials). Check your inbox to read our Instruction email.
Access
Pastry World Community
If you are feeling stuck or need help with something, you can ask help in the PastryWorld Community from other fellow students from all around the world.

Get your
Training Certificate
After completing the course you can download the digital Training Certificate.
MEET THE CHEF
RICHARD HAWKE
PASTRY CHEF
GLUTEN-FREE & VEGAN PASTRY EXPERT
PROFESSIONAL EXPERIENCE
Author of the Book "
ADAPT | A Unique Pastry Concept
", published by ICEP PUBLISHING, 2021
2016 - Present: Pastry Consultant & Instructor for renowned School and Clients:
Schools:
ICEP HOTEL SCHOOL (Bucharest, Romania), INBP (Rouen, France), Atelier by Australis (Sydney, Australia), Cordon Bleu (London, UK), Bishulim Culinary School (Tel Aviv, Israel).
Clients:
Natacha Pacal (Bratislava, Slovakia), Rose Léon (Casablanca, Marocco), The Cake (Kiev, Ukraine).

2012-2016: International Teacher for ÉCOLE NATIONALE SUPÉRIEURE DE LA PÂTISSERIE (ENSP), ALAIN DUCASSE EDUCATION, FRANCE

Before 2008: Head Pastry Chef | Lyon, France | Sydney, Australia
Just launched...
Register now with
our exclusive offer:
only € 149* / € 298
*Exclusive Offer available for limited time only!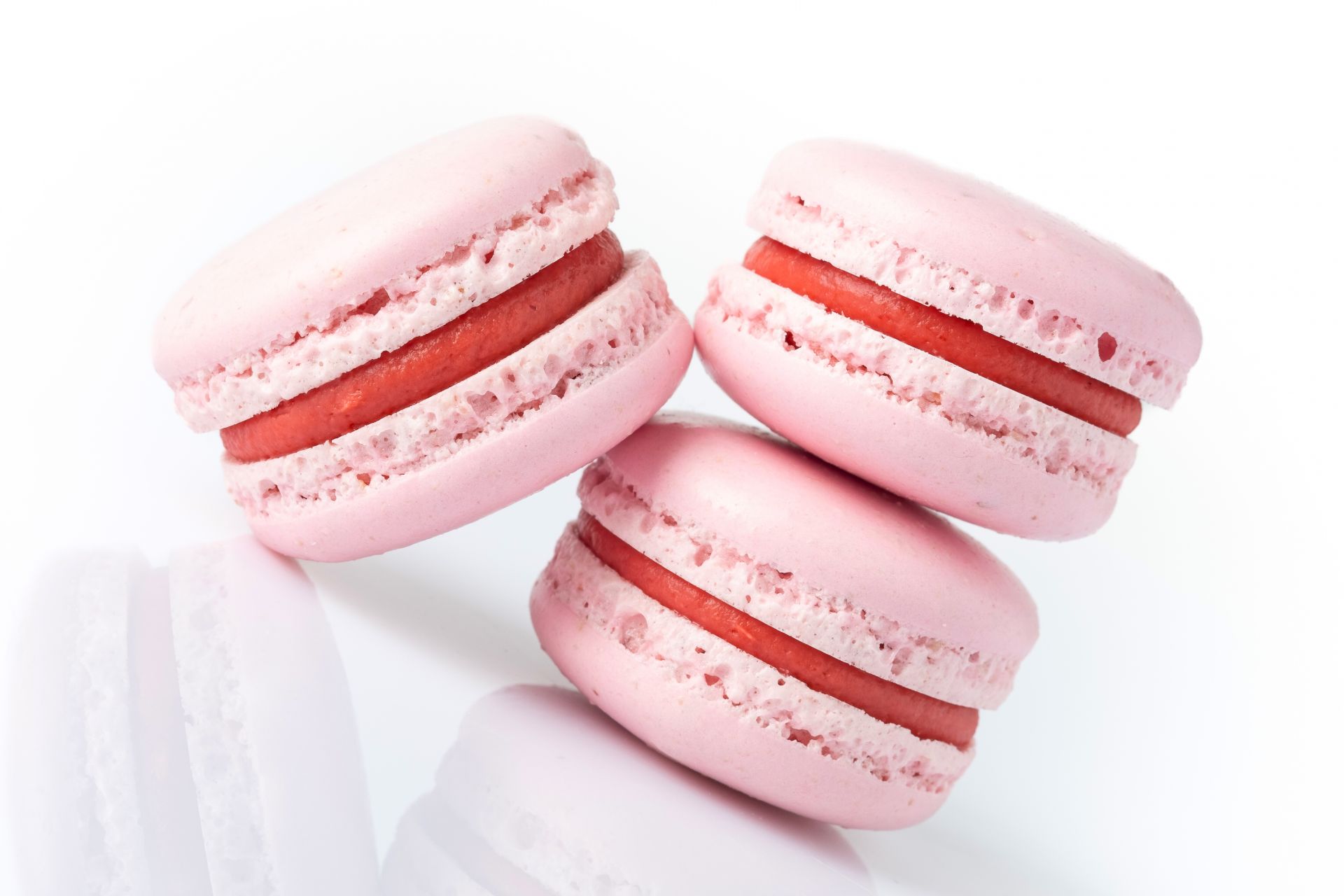 You will get:
PDF Printable E-Book;

Over 30+ Full HD pre-recorded video lessons (total 190 min of recording);

11 vegan macarons recipes;

Macaron Inspiration: 3 beautiful macaron based "one-bite" creations to impress;

Audio, Text + Support in English;

Access to Pastry World Community.

Digital Training Certificate.
*Exclusive Offer available for limited time only!
Frequently Asked Questions
About Course Concept
How long will I have access to the course materials?
You will have 12 months 24/7 full access counting from your enrolment date.

At the end of the 12-month period, you will be able to prolong your access.
How can I access the desired course?
First step is to register and book the desired course. Only paid accounts will have access to premium features of our course.
You will be able to access your Course Player immediately and start your learning according to your course plan.
Step 1: Register for the course;
Step 2: Go to My Courses: https://online.icephotelschool.com/my-courses
Step 3: Access your course and start your learning experience!

The platform can be accessed from PC, Laptop, Tablet or Mobile phone, although for the best user experience we recommend to use a big screen device.
Can I access the modules in the order I want?
Each course is structured in modules and lessons. For the best learning experience we recommend to go through the learning materials step by step according to the course structure/plan.
How do I access Pastry World Community?
The Pastry World Community is the platform where you can connect with other pastry passionates and professionals enrolled into this course, to ask questions and share your work and ideas. You can access the Community by creating an account here:
www.mypastryworld.com
.
Can I access the learning content after the 12 months?
Once the 12 months of access to the Course have passed, you can prolong your access by purchasing a 6 or 12 months subscription plan. For more information, please contact Support at
[email protected]
.
Will I receive a Training Certificate?
You will receive your Training Certificate if you successfully complete all learning activities for this course. You will be able to download your certificate from your account.

I want to learn more. What other courses you recommend?
Continuous learning is the best investment in yourself.
If you would like to stay with us and learn more, we have a few recommendations for you:
You could continue your online learning experience by registering to other Online Programs;
You could participate into On-Site MasterClass in Bucharest, Romania.
Requirements.
Our Recommendations.
Can I take this course if I don't have professional experience?
You do not necessarily need to have previous professional experience or knowledge. It is more important to have the desire and motivation to learn and invest time to do so.
I don't speak very good English. What other languages is this course available? What do you recommend?
All learning materials for this course are in English (Course Book, Video Lessons, Community Support). If you can understand and can speak & write basic English, you will do just fine.

I am not computer friendly. Will I be able to follow through the course?
Our Digital Course Player is very user friendly and simple to use, you won't need specific Computer knowledge. In case you have difficulties we are here to support you, just drop us an email:
[email protected]
and we will guide you through.
What equipment do I need to follow this course?

PC, Laptop, Tablet or Smartphone with good internet connection
For a proper user experience without interruptions, we recommend viewing the Video Lessons on your PC, laptop or tablet. You will need also a good internet connection.


Ingredients, Utensils & Equipment [only if you wish to practice]
You will need ingredients, utensils and basic kitchen equipment to exercise the recipes in your kitchen.
How much time should I invest into this course?
We recommend to invest at least 15 hours/week to go through video lessons several times and create the delicious macarons in your kitchen. This way you will get the most out of your course.
The more time you invest, the better results you will have! We look forward seeing your results on the Pastry World Community App!

Enrolment. Payment. Invoicing.
Step 1: Go to Enrolment Section of this page
Step 2: Click on the REGISTRATION button.
Step 3: Complete Booking Form and finish online payment process. You will receive a confirmation email and your spot will be booked.
Option 1: CREDIT CARD
You can make payment online with your credit card.
You will receive instant booking confirmation and your spot will be secured.
We use 3D Secure Online Payment Processors - STRIPE, with PCI Level 1 certification. This is the most stringent level of certification available in the payments industry.
You can use MasterCard, Visa, Maestro or American Express.
Payment can be processed in your local currency.

GUARANTEED SECURITY USING ONE OF THE MOST ADVANCED ENCRYPTED SYSTEMS ON THE MARKET.

Option 2: BANK TRANSFER
If you wish to make payment via bank transfer, please follow the below instructions:
Account info:
Company Name: ICEP INTERNATIONAL SRL
IBAN: RO59BTRL04104202D26205XX
Swift: BTRLRO22
*All transfer fees shall be paid by Sender.
After making payment, send us an email to
[email protected]
with the following information:
Payment Confirmation;
Name of the Participant and Email Address to create and give access to Student Account.
If you need Company Invoice, kindly send us the below information:
Name of Company
Registration or VIES Number (for EU Companies)
Full Address
I have a problem with payment. What do I do?
We have students enrolling from all over the world and in very isolated cases they can go through system blocks or security issues raised by our bank or the bank of the student.
We apologise for any inconvenience and we are here to help you solve them.
Email us at
[email protected]
or send us a
Whatsapp message
and we will try to help you sort it out.
Does the course price include VAT?
Our company is exempt of VAT, so there will be no VAT to be paid by you.
Can I get a Company Invoice?
For Company Invoice please follow the Instructions when you make your Registration and complete the Billing Information with the correct company data:
Name of the Company
Address
Registration Number

Important: Please be aware that Invoices are issued automatically with the information you Insert when you complete the BILLING INFORMATION Section and cannot be manually edited after.
You can Download your Invoice from your Account. Follow the steps below:
Course Page or Home Page Menu My Account Account
Can I cancel my enrollment?
You have the right to cancel your enrolment up to 14 days following your enrolment, if you haven't started your course.
However, as it is a digital product, once you have started your course, it is not possible to cancel the enrolment and receive any refunds.