Dear
,

Welcome to the Signature Eclairs
Online MasterClass
with Joakim Prat

COMPLETE THE ENROLMENT PROCEDURE
AND START YOUR LEARNING
TERMS & CONDITIONS
I understand that once I register I will gradually receive:
Active account on ICEP digital course platform;
12 months access to the video lessons and digital course material;
6 weeks Practical Guided Learning;
PDF printable Course Book;
List of Ingredients, Utensils & Equipment necessary to complete assignments;
Digital Training Certificate.

*Payment can be made in your local currency
*You will automatically receive Invoice in your Inbox after your payment confirmation and your spot will be secured.
*I understand that once I start the course, payment is not refundable.

PAY WITH YOUR CARD:
WE USE GUARANTEED PAYMENT SECURITY WITH ONE OF THE MOST ADVANCED ENCRYPTED SYSTEMS ON THE MARKET.
The information in this page is being processed and encrypted securely using industry-leading encryption and fraud prevention tools.
To get the best value out of our Online MasterClasses,
it's important to organise well.
We invite you to follow the steps below.
So let the pastry journey begin :)

STEP 1
Access your Course Player and start learning.
The Course Player is the "magic place" where you can access:

Resource Centre:
Course Book, Ingredient & Utensil Lists + Other resources you can print out.
Pre-Recorded Video Lessons:
The pre-recorded Full-HD Video Lessons with Chef will guide you step-by-step through and help you create the wonderful signature eclairs from this program in your own kitchen.

During the 6 weeks, each Friday a new batch of lessons will be released.
You can start viewing these videos in your own pace, the only requirement is to view them in the order they have been structured and at least 1 time before moving on to the next learning unit.
STEP 2
Get your kitchen ready
for Practical Assignments

To be able to complete de Practical Assignments and Submit them for Evaluation & Feedback, first you need to make sure you have the minimum equipment and utensils necessary.
Check out Ingredient & Utensil Lists and Our Recommendations in your Course Player.
What you are missing you ca buy from the market or order online on our web-shop.
Here is our welcome gift
Get 10% OFF for first order in our Online Shop :)
USE THIS DISCOUNT COUPON:
icep-online-10
Step 3:
Start Practical Guided Learning
Duration: 6 weeks
We believe the best learning experience is a well designed balance between theory and practice. With this in mind, we have created the Practical Guided Learning Plan that consist of 6 weeks of guided learning.

During the 6 weeks of Guided Learning, you will benefit of:
Practical Assignments
The opportunity to reproduce from 2 to 8 eclairs from the program in your own kitchen following our guidelines and step-by-step instructions.

Practical Assignments are submitted in the ICEP Community Platform.

You will submit a short description with:
Steps in making the product (steps you followed);
Challenges encountered while making the recipes;
Self-Evaluation of your results: defects, causes and remedies (how you think you could improve the result);

And upload photos or videos with your product to showcase:
Whole product;
Product in section [cut].
Feedback. Evaluation of your work
You will receive constant feedback from Chef and ICEP Team helping you to progress.
STEP 4
Join ICEP Community
The International Pastry Community is a wonderful addition to your learning experience and it enables you to:
easily DISCUSS different topics and ASK QUESTIONS related to your course;
Follow Topics you are interested in;
SUBMIT your PRACTICAL ASSIGNMENTs;
Track Instructor Evaluation and Feedback;
Network with other pastry passionates and professionals all over the world!

To get access to the Community, you need to CREATE ACCOUNT.
Get your Training Certificate
Upon completion of the Learning Activities and the 6 weeks Guided Practical Learning Plan

you will be rewarded with our digital


Training Certificate.


You will be able to download the Certificate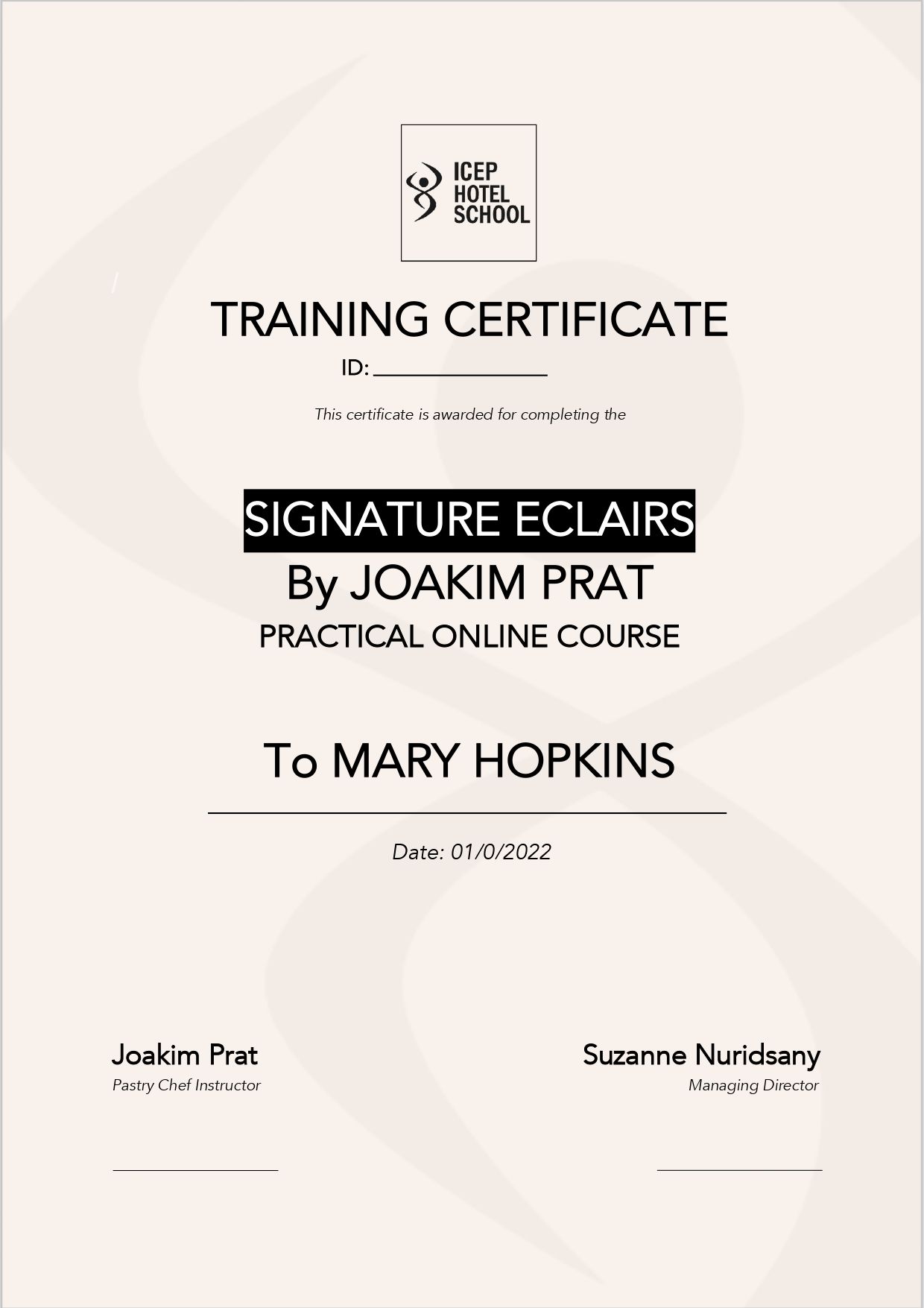 If you need any help, we are just one click away.
Happy learning :)
TEAM ICEP HOTEL SCHOOL